Facts about Ukraine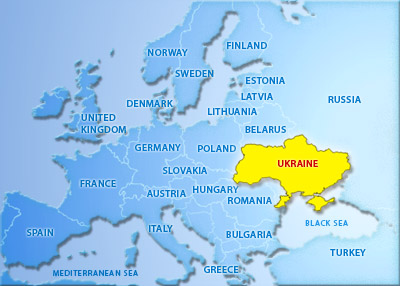 Area: 603,700 sq km

Border countries: Belarus, Hungary, Moldova, Poland, Romania, Russia, Slovakia

Climate: temperate continental Mediterranean only on the southern Crimean coast precipitation disproportionately distributed, highest in west and north, lesser in east and southeast winters vary from cool along the Black Sea to cold farther inland summers are warm across the greater part of the country, hot in the south ... read more

Elevation extremes:
lowest point: Black Sea 0 m
highest point: Hora Hoverla 2,061 m

Natural resources: iron ore, coal, manganese, natural gas, oil, salt, sulfur, graphite, titanium, magnesium, kaolin, nickel, mercury, timber

Environment—current issues: inadequate supplies of potable water air and water pollution deforestation radiation contamination in the northeast from 1986 accident at Chornobyl' Nuclear Power Plant

Environment—international agreements:
party to: Air Pollution, Air Pollution-Nitrogen Oxides, Air Pollution-Sulphur 85, Antarctic Treaty, Biodiversity, Climate Change, Environmental Modification, Marine Dumping, Nuclear Test Ban, Ozone Layer Protection, Ship Pollution

Geography—note: strategic position at the crossroads between Europe and Asia second-largest country in Europe

Population: 46,811,174 (July 2006 est.)

Nationality:
noun: Ukrainian(s)
adjective: Ukrainian

Ethnic groups: Ukrainian 73%, Russian 22%, Jewish 1%, other 4%

Religions: Ukrainian Orthodox—Moscow Patriarchate, Ukrainian Orthodox—Kyiv Patriarchate, Ukrainian Autocephalous Orthodox, Ukrainian Catholic (Uniate), Protestant, Jewish, Muslim.

Languages: Ukrainian, Russian, Romanian, Polish, Hungarian

Data code: UA

Government type: republic

Capital: Kyiv

Administrative divisions: 24 oblasti (singular—oblast'), 1 autonomous republic* (avtomna respublika), and 2 municipalities (mista, singular—misto) with oblast status** Cherkas'ka (Cherkasy), Chernihivs'ka (Chernihiv), Chernivets'ka (Chernivtsi), Dnipropetrovs'ka (Dnipropetrovs'k), Donets'ka (Donets'k), Ivano-Frankivs'ka (Ivano-Frankivs'k), Kharkivs'ka (Kharkiv), Khersons'ka (Kherson), Khmel'nyts'ka (Khmel'nyts'kyy), Kirovohrads'ka (Kirovohrad), Kyiv**, Kyyivs'ka (Kyiv), Luhans'ka (Luhans'k), L'vivs'ka (L'viv), Mykolayivs'ka (Mykolayiv), Odes'ka (Odesa), Poltavs'ka (Poltava), Avtonomna Respublika Krym* (Simferopol'), Rivnens'ka (Rivne), Sevastopol'**, Sums'ka (Sumy), Ternopil's'ka (Ternopil'), Vinnyts'ka (Vinnytsya), Volyns'ka (Luts'k), Zakarpats'ka (Uzhhorod), Zaporiz'ka (Zaporizhzhya), Zhytomyrs'ka (Zhytomyr).
note: oblasts have the administrative center name following in parentheses
Independence: 1 December 1991 (from Soviet Union)
National holiday: Independence Day, 24 August (1991)
Constitution: adopted 28 June 1996
Legal system: based on civil law system judicial review of legislative acts
Suffrage: 18 years of age universal

Portrait of the city of Kyiv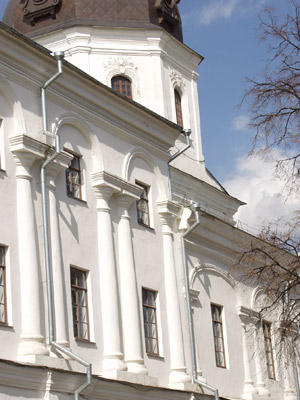 Kyiv is one of the biggest cities in Europe. It is a bustling capital of independent Ukraine, its administrative, economic, scientific, cultural and educational center. This scenic city with population of over 3 million people is located on the shores of the Dnepr River.

Kyiv is a city of invaluable historical and cultural monuments, a city of great events and outstanding people. Everyone will find there something especially interesting for himself. ... read more

The art and architecture of Kyiv are considered world treasures. Many famous artists, poets and writers estimated the unique beauty of this city. The most renowned landmarks include: Cathedral of St. Sophia with outstanding mosaics and frescoes dating back to the 11th century; Kievo-Percherskaya Lavra featuring several monasteries and cathedrals; Golden Gate of Kyiv, which date back to 1037; Ukrainian Baroque Church of St. Andrew; the magnificent 19th-century Cathedral of St. Vladimir; and many other attractions. Kyiv is often referred to as "the mother of all cities" by Russians and Ukrainians. It is one of the oldest towns in Europe. In the historical center of Kyiv you can feel the spirit of the past everywhere.

Kyiv is distinguished for its rich cultural life. Theater lovers will find many theatres offering various theatrical programs. Most performances are held in Ukrainian or Russian. The recently renovated Kyiv Opera House presents very good opera as well as a broad repertoire of ballets. Ivan Franko Theater is a center of Ukrainian drama, comedy, and musicals. A lot of various exhibitions are carried out in the city's numerous museums and art galleries.

Kyiv is also a scientific and educational center of Ukraine. Various universities and science academies are located there.

Being the largest city of Ukraine, Kyiv is a leading industrial and commercial center of the country. Kyiv's major industries include: food processing (especially processing of beet sugar), metallurgy, manufacture of machinery, machine tools, rolling stock, chemicals, building materials, and textiles. The development of Ukrainian economy gave impulse to business activity of the city. There are a lot of new office centers, banks, trade exhibition centers and other commercial enterprises appearing in the city nowadays.

Take a walk through the ancient streets of this scenic city, feel its unique beauty and the spirit of its past. For sure your stay in Kyiv will become one of your most memorable experiences.

Quick Facts about Kyiv

Area: 827 sq km
Location: Kyiv region, on the River Dnepr
Geographic coordinates: 50 28 N, 30 29 E
Population: 2,900,000 (2001 est.)
Foundation: 482 A.D.
Climate: Temperate continental. It is mainly characterized by plentiful precipitation and cloudiness in winter and fall. Winters are usually long and cold. Summers are short but can be pretty hot.
UTC/GMT Offset: UTC/GMT + 2 hours
Area code: 44
Major attractions: St. Sophia's Cathedral, Uspensky Cathedral, St. Michael Monastery, Kievo-Pecherskaya Lavra, Golden Gate, Andreyevsky Spusk.
Major industries: Metallurgy, engineering industry, chemicals, textiles, food processing, building materials, electric products, gas, oil, coal and peat production, woodworking industry.