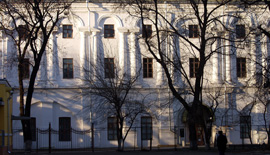 Some of you may be interested in studying in a non-degree status, either through exchange programs (exchange students) or for their own personal learning experience (free-movers) or for the research work (research students). A non-degree status give you a possibility choose different courses from different programs taught in different languages.

Many courses at NaUKMA are taught in English, the list of them you can see here. Those of you who know Ukrainian can take courses taught in Ukrainian (from Bachelor or Master's programs).
Non-degree students can study Ukrainian as a Foreign language.


Exchange students
NaUKMA has the agreements about students exchange with many universities in different countries; you can find out if your University has an exchange agreement with NaUKMA here.
Unusually tuition fee waiver policy is applied towards exchange students.


Erasmus+ Students
NaUKMA is glad to welcome European students, coming to us through the Erasmus + programme (EU supported and funded initiative to facilitate exchanges between EU Universities and the universities in the 3rd countries).
Currently NaUKMA has the Erasmus mobility agreements with 16 EU Universities.

The institutions named below agree with NaUKMA to cooperate for the exchange of students in context of the Erasmus+ programme:

- Jagiellonian University, Krakow, Poland;
- Nicolaus Copernicus University in Torun, Torun, Poland;
- Charles University, Praha, Czech Republic;
- Universite Paris-Est Creteil, Paris, France;
- Science Po, Paris, France;
- Universite de Lille - Sciences et Technologies, Lille, France;
- Friedrich-Schiller-Universitat Jena, Jena, Germany;
- European University Viadrina, Frankfurt (Oder), Germany;
- University of Salerno, Salerno, Italy;
- University of Tartu, Tartu, Estonia;
- Lund University, Lund, Sweden;
- Central European University, Budapest, Hungary;
- University of Bergen, Bergen, Norway;
- University of Helsinki, Helsinki, Finland;
- University of Groningen, Groningen, Netherlands;
- University of Glasgow, Glasgow, Great Britain.

Please note, for the application procedures and more information you have to turn to your home university international relation office.

Applications/information on nominated students must reach the NaUKMA:
- Autumn term (September-December) – June 1st;
- Spring term (January-May) – October 15th;
- Summer term (May-June) – February 15th.


Free-movers


If your University does not have an agreement with NaUKMA, you can still come here for non-degree studies in a free-mover status. Free-mover students are individual non-degree international students who come to NaUKMA for one or two terms for taking courses one or more NaUKMA programs. Free-movers are expected to pay tuition fee at NaUKMA.

HOW TO APPLY
(please note that this relevant for the Exchange students and Free-movers, for Erasmus Mundus mobility please check the application requirements and procedures of every particular project)
>> read more You application package must include:

• Application form
• A copy of an official degree diploma/certificate (if available)
• A university transcript documenting your academic work
• Certificate of proficiency in English from your University(for non-native speakers)
• An essay explaining why you want to study at the NaUKMA

After successful completing their period of studies at NaUKMA non-degree students will receive an academic transcript (in Ukrainian, with official English translation).



For additional information please contact Yelyzaveta Taranukha,
int_students@ukma.edu.ua, tel. +38 044 425 50 16


Research students


There is another possibility for international students to come to NAUKMA. Being a research student you will concentrate on the research work / collecting data for you topic of interest under the supervision of the NaUKMA faculty member.

In addition to their research work international research students can audit the NaUKMA courses (if there are no special pre-requirements for attending the class) without getting the credits and grades. They will have the possibility to get library card and use library resources. Please see more about NaUKMA library here.

Research students have also the possibility to take Ukrainian as a Foreign Language classes.

The maximum duration of research students stay at NaUKMA is 1 academic year.

HOW TO APPLY
>> read more In order to apply for research student status at NaUKMA, you should do such steps:
1. Decide about research area and topic. Please check NaUKMA webpage for information about Faculties, Departments and main research spheres.
2. Fill in the application form and send it via email to int_students@ukma.edu.ua
3. Prepare supporting application documents (CV and research project).
4. Some international students already know the research advisor at NaUKMA with whom they would like to work with. Please let us to know if the is the case, otherwise we shall try to do that for you, basing on your research proposal.



For additional information please contact Yelyzaveta Taranukha, int_students@ukma.edu.ua,
tel. +38 044 425 50 16