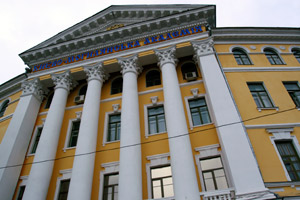 Whether you are looking for a place to get your Bachelor's degree or to go on with your Master's degree, whether you plan to develop your professional competency through conducting scholarly research, or, perhaps, you are interested only in taking a few particular courses - you are welcome to National University of Kyiv-Mohyla Academy! All those programs are available at National University of Kyiv-Mohyla Academy for foreign students and here is some information that might be helpful if you decided to apply to the NaUKMA.
Degree studies / Програми повної форми навчання
Non-degree studies
Some of you may be interested in studying in a non-degree status, either through Erasmus+ ICM or other mobility programs (Erasmus+ / Mobile Students, bilateral or other exchange programs (Exchange Students), or for your own personal learning experience (Free-movers), as well as for the research work (Research Students). Also you may be interested to come to NaUKMA to learn Ukrainian as a Foreign Language. Non-degree status give you a possibility choose different courses from different programs taught in different languages. Many courses at NaUKMA are
taught in English
. Those of you who know Ukrainian can take courses taught in Ukrainian (from the NaUKMA
Bachelor
or
Master's
programs).


For additional information please contact Marie-Therese Duke and Maria Sheina, int_students@ukma.edu.ua, tel. +38 044 425 50 16