APPLICATION DEADLINE IS EXTENDED THROUGH 6 JUNE 2014!!!
THE DETERMINANTS AND PROSPECTS IN UKRAINE'S EUROPEAN INTEGRATION AND RESET OF RELATIONS TO RUSSIA: CHANCES AND RISKS OF KYIV'S RE-DEFINITION OF UKRAINIAN IDENTITY AND GEOPOLITICS
National University of "Kyiv-Mohyla Academy" (NaUKMA)
SUMMER SCHOOL FOR INTERNATIONAL STUDENTS
21 August – 4 September 2014
(Thursday arrival / Thursday departure)
read more
Summer School Director:
Larysa Chovnyuk, M. A.
Head of the NaUKMA International Office

Summer School Managing Coordinator:
Olga Fedotkina, M.A. NaUKMA International Office

Academic Advisor: Dr. Mychailo Wynnyckyj,
lecturer at the NaUKMA Department of Sociology and Kyiv-Mohyla Business School

Application deadline:
6 June 2014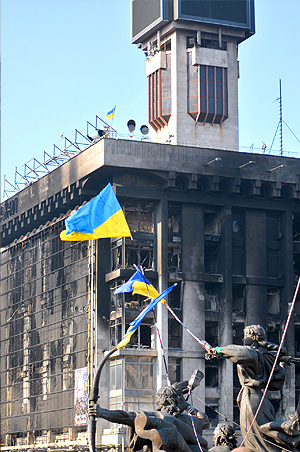 SCHOOL DESCRIPTION
It is easy and not easy to say "we are inviting you to visit Kyiv and Ukraine" this year. Easy – because we have too many things to tell you and to discuss with you, while hoping also that you have many questions, and that they are not only about what has been happening in Ukraine, but what is / will be happening in / with Europe, with each of us because of these events.

Why not easy… We have been postponing an announcement of this school both because of the "content" which is changing every day, and definitely because of the situation in the country - also changing dramatically, every day. From the point of view of the school's logistics there is absolutely no more time to postpone – while at moment we are writing this, Ukraine is facing unprecedented violence, separatist "exercises", social unrest, and each of us is experiencing personal anxiety. But we must continue to live (with every passing day the word "live" seems to take on a more literate meaning. With each passing event in Ukraine (and we do not forget about the upcoming European Parliamentary elections) it is increasingly evident that we will have to add much more to the summer school program. While current events suggest a risky and tension filled summer, it is important that you would come – and observe, listen, argue, discuss, agree and disagree. The summer school will coincide with Ukrainian Independence Day (Aug 24) and with the start of the academic year at Kyiv-MohylaAcademy (Sept. 1). Both dates offer great opportunities to experience Ukraine's rebirth after a difficult first half of 2014.

The topic of this school was created still back in early fall of 2013, when Ukraine, we had hoped, was about to sign the EU Association agreement and DCFTA. The school's title (its implied meaning) was very different then. Regardless of the revolutionary events of the winter of 2013-14, and Russia's aggressive behaviour in their aftermath, we decided not to change the school's focus – maybe this title is even more "symbolic" now?
read more
School Prerequisites
Strong interest in contemporary Ukrainian affairs. Good English language knowledge.

School Organization
The school is oriented towards advanced under-graduate students (2nd year and above), although graduate, post-graduate, and doctoral-level students are also encouraged to apply. The course focuses on political, economic and social issues, and is particularly suitable for students in the social sciences, humanities, and law, but open to all faculties. After completion of the course, students will be issued NaUKMA transcripts. The course combines in-class sessions (lectures and seminars, interactive presentations with discussion highly encouraged), a conference on Ukraine's international relations, guest visits, joint discussions with local students, and tours to interesting sites in or around Kyiv.

School Aims and Contents
In 2013-2014 Ukraine experienced an unprecedented series of events. After 3 months of peaceful protest, followed by several days of mass violence, the seemingly immovable and blatantly corrupt regime of President Viktor Yanukovych suddenly disintegrated. After Yanukovych's flight, Russian President Vladimir Putin embarked on an unprecedented violation of international law that resulted in both the annexation of Crimea, and the destruction of the post-Cold War global security order. Whereas the revolutionary events that led to the removal of Yanukovych were largely informed by economic and social demands (e.g. de-regulation, transparency, public safety and personal dignity), Russia's aggression was rationalized through an appeal to identity issues (language, ethnicity).
Our objective is to contextualize the antecedents of 2014 by analyzing the main historical developments in Ukrainian society since independence, focusing on two corollary processes: 1) economic change, including both privatization and new start-up entrepreneurship, and 2) identity shifts, including regional, memory, and linguistic dimensions. The underlying hypothesis of the course is that Ukraine's 2014 revolution and its aftermath were not without antecedents. During the previous 25 years, Ukrainian society experienced radical change in its economy, in its polity, in its social practices (habitus), and analysis of these transformations is key to understanding both the preconditions and aftermath of recent revolutionary events.

The summer school will introduce students to the analysis of these phenomena from different perspectives as the teaching will involve English-speaking political scientists, historians, economists, cultural scientists, and sociologists – mainly, but not only from National University of Kyiv-Mohyla Academy.

Course Instructor(s)
As the school is designed to be a mixture of different types of activities. The main school lecturer will be Dr. Mychailo Wynnyckyj (lecturer at the NaUKMA Department of Sociology and Kyiv-Mohyla Business School), whose "course in course" Post-Soviet and Post-Revolutionary Ukraine: Socio-Economic and Political Transformation or "How did we get here, and why did it happen?" will make the core of the school program.
Other lecturers invited will be mainly NaUKMA experts (among them Olexiy Haran, Andreas Umland, Kateryna Budz, Anastasiya Grynko, Yegor Stadny and others), but we also put a special focus on external speakers. For details please refer to the preliminary program to be published in due time.

Workload and Hours
The participants will attend about two classes per work day, and can have further meetings and trips during the afternoons and at the weekend. They will meet and work with lecturers and students from National University of Kyiv-Mohyla Academy The Summer school is organized by the NaUKMA International Office.
The School program will consist of around 60 in-class hours (lectures, presentations, discussions) plus about 30 hours for course visits, meetings, group projects, project presentations etc.

ECTS
In case of full attendance of, and active participation in, these lectures/seminars, students may obtain 2.5 ECTS points.

Facultative Ukrainian-Language Course Work
Additionally in parallel to the program, the students will be offered the opportunity to take part in a non-obligatory intensive course of Ukrainian. The course values 1,5 ECTS, with one or two sessions per work day, i.e. 14 x 2 = 28 hours. One course will be offered for those with no previous knowledge of a Slavic language, and one course for those with previous knowledge of a Slavic language (Russian, Polish, Slovak, Bulgarian, Serbian,...). Additional fees for these language courses will be charged (170-245 Euro depending on the number of the students registered). Language classes will not overlap with the program classes.
Two classes of survival Ukrainian are included into the program and covered by the general school fee.

Place:
National University of Kyiv-Mohyla Academy
International Office
2 Skovorody vul. 04655 Kyiv, Ukraine (postal address)
8/5 Voloska vul., NaUKMA Building 5, office 314/315 (visiting address)

SCHOLARSHIPS
German students may want to check the DAAD (German Academic Exchange Service) specialized stipendprogramme for the summer school attendance. read more

Please, note that those German students who wish to receive DAAD support have to apply separately and in parallel to the DAAD for this scholarship, details are here. Deadline – 6 June 2014. Note also that the DAAD has, unfortunately, only a limited amount of scholarships available for German students. Students who are able to cover their expenses and fees with other than DAAD funding or by themselves should indicate so in their application/s to the school, and DAAD.

GENERAL LOGISTICS
Arrival in Kyiv
Students are expected to arrive in Kyiv on Thursday, August 21. Pick-up service from Boryspil International Airport, Kyiv International Airport or Kyiv Railway Station can be arranged by the school organizers upon request for additional payment. read more

Departure is Thursday, September 4.

Place
National University of Kyiv-Mohyla Academy (NaUKMA) is located in the historic Podil neighborhood of Kyiv. The campus is located on 3 city blocks stretching from the Kontraktova Square to the Dnipro river.

The campus of NaUKMA is composed of a number of buildings, but most of the in-class sessions of the course will be held at the International Office classroom (8/5 Voloska vul., NaUKMA Building 5, Auditorium 5-313).

Please visit ukma.edu.ua for more information about the University and dfc.ukma.edu.ua for the NaUKMA international activities.

Accommodation
School organizers will suggest the students these types of accommodation:

• Youth Hostel
Summer school students are advised to consider accommodation at the Dream House Youth Hostel. Hostel was opened in April 2012 and it claims to become one of the most modern hostels in Kyiv. It is located on famous Andriyvskyy Uzviz street and it takes about 5 minutes to get to NaUKMA from the hostel. This accommodation option is highly recommended!
Please note that the summer school students are responsible for their own reservations at the hostel, though the school organizers, upon getting permissions, can provide contact details of the selected school participants for the possibility to arranged shared rooms / apartments.


• Private apartment. Apartments are usually located in walking (up to 15 minutes) distance from the University and from each other. The apartments have typically 2 bedrooms, a kitchen, a bathroom and a toilet. All apartments are furnished, and include kitchen supplies, towels, utilities, and a local telephone (outgoing international calls are not allowed). It is recommended for two school participants to share one apartment. Apartments may cost (if to be shared by two participants!) – around 450-500 UAH per night per person, depending on the quality of the apartment.

• If preferred, you can arrange accommodation in Kyiv by yourself. We would recommend rent apartments either in the Podil district or close to it, in order to avoid using public transportation during the rush hours.

Meals
Meals (but welcome and farewell event) will not be provided, but summer school students will be able to use the NaUKMA students canteen (25-30 UAH for lunch), the nearest Trapezna or Puzata Khata cafeterias (up to 60 UAH for lunches) and many other options available in the University neighborhood. A list of restaurants / cafes in Kyiv can be found on http://www.restaurant.ua/kiev/restoran/

Miscellaneous:
Applicants are asked to inform themselves extensively about living and traveling for foreigners in Ukraine. While Kyiv is not more dangerous than other cities in the region, we would like to alert you to occasional petty crime in public transportation, the presence of HIV/AIDS in Ukraine, and the necessity to boil tap water that you want to use for drinking or preparing meals. In the case of a medical emergency, Kyiv has high class hospitals, but you should make sure you have sufficient health insurance that will cover any possible expenses. There are other things to observe. You can find in the relevant information in the major travel guides, or/and at your Kyiv embassy's website.