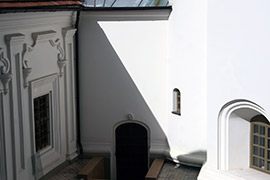 All Bachelor and PhD programs at NaUKMA are taught in Ukrainian language.

NaUKMA offers one English taught Master's program in Healthcare Management



Admission Procedure Admission Procedure

Application package submission deadline
June 3 (those who need invitation to enter Ukraine should submit full application package at least 2 months before expected arrival to Ukraine, please find the details below)

July 17 (those who are staying in Ukraine and have residence permit at least till end of August)

Invitation letter for the D-type visa to enter Ukraine
Invitations can be upon review of the application package submitted and preliminary skype-interview. Invitation letter fee is 26 US dollar. Please notice that this fee does not include visa support fee (visa support crevice is provided by the Ukrainian State Center for International Education, the Center confirms authenticity of the invitation to the Consular Services of Ukraine abroad) and other visa-related costs.
Please notice that invitation letter, issued by NaUKMA does not guarantee admission to NaUKMA!

Admission interviews
Applicants are expected to sit two interviews:
- General Principles of Public Healthcare and Public Health Management
- English language

Admission interviews are arranged in two sessions:
1. June 3 – 7 - physical presence of applicants is required online interview can be allowed only in exceptional cases
2. July 17 – 31 - physical presence of applicants is required, online interviews are not allowed. Holders of Ukraine's temporary residence permit are allowed for the interviews, if their temporary residence permits expire at least 1 month after the date of enrolment

Admission and Enrolment
June 8 – September 30
Tuition fee for the 1st year of studies is required for the official enrolment for studies



Application Package Application Package
To apply please send your application package to int_students@ukma.edu.ua

Your application package should include:
1. filled-in application form
2. Document, confirming your previous education
- certified copy of Bachelor's diploma (strongly recommended - with Apostil or Consular legalization), with translation into English or Ukrainian
- university/college transcript on Bachelor level studies, with translation into English or Ukrainia

3. statement of purpose
4. abstract from your first degree thesis/term paper
5. a scan copy of your passport
6. signed Data Consent Form

Please note: originals of the transcripts and diplomas will be required only when applicants are approved for admission!







Tuition Fees 2019

Official Admission Rules (unofficial translation of the document into English, official version is in Ukrainian)



Accomodation Accomodation

NaUKMA student dormitory, available for accommodation of international students is located on 17 Kharkivske shose, which is approximately 45 min by public transport from the University.



The dormitory neighborhood has well-developed infrastructure (supermarkets, gym, swimming pool, cafes etc. around; bus and tram stops nearby).

International students are usually accommodated in single or double (shared) rooms in the separate blocks of room, which have seven rooms with shared bath, kitchen, and WIFI. Dormitory has laundry facilities, 24-hour reception.

NaUKMA Student Dormitory (17 Kharkivske shose) photo gallery

Accommodation can be provided for the period of admission interviews (with arrival and check-in not earlier than 1 week before the interview).

Single room fee - 3000 UAH / month
Double room fee – 1500 UAH / month

To apply for accommodation, please fill in accommodation application form



Contact Information Contact Information

Julia Barska - y.barska@ukma.edu.ua (information on Master's program in Healthcare Management)

Yelyzaveta Taranukha – int_students@ukma.edu.ua (information on admission details, invitation, visa/migration issues)