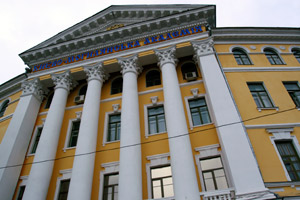 NaUKMA is happy to welcome European students, coming to Kyiv-Mohyla and Ukraine for the non-degree semester- or year-long academic mobility within the Erasmus+ ICM / KA107 program (EU supported and funded initiative to facilitate exchanges between EU / program countries universities and the universities in the 3rd countries), as well as students, coming from worldwide within the other mobility projects and initiatives. During their mobility at NaUKMA, Erasmus+ and other mobile students can choose courses from diverse NaUKMA programs, approved by their home universities. They also can join Ukrainian as a Foreign Language courses (please carefully check enrollment requirements for these courses).

Please consider the list of the NaUKMA courses, taught in English and open for the mobile international students. Mobile students, proficient in Ukrainian, can take courses of the NaUKMA Bachelor and Master's programs., taught in Ukrainian.

Currently NaUKMA has student exchange agreements within the Erasmus+ or other mobility projects and initiatives with the following universities:
Jagiellonian University, Krakow, Poland;
Nicolaus Copernicus University in Torun, Torun, Poland;
Charles University, Prague, Czech Republic;
Universite Paris-Est Creteil, Paris, France;
Universite de Lille, France;
Friedrich-Schiller-Universitat Jena, Jena, Germany;
European University Viadrina, Frankfurt (Oder), Germany;
University of Bergen, Bergen, Norway;
University of Helsinki, Helsinki, Finland;
University of Groningen, Groningen, Netherlands;
University of Glasgow, Glasgow, Great Britain and others.
Please double-check with your home university, if you do not find it on the list of the NaUKMA mobility partners. Please also check the availability of places for the mobility to NaUKMA.

Please keep in mind that your home universities can establish internal deadlines for application and selection of participants for the Erasmus KA107 or other mobility projects, while NaUKMA will expect receiving the partner universities' official nomination and the nominated students' applications by:
Autumn semester (September-December) – by June 1st
Spring semester (January-May) – by November 1st
Summer semester (May-June) – by February 28th

HOW TO APPLY

For additional information please contact Yelyzaveta Taranukha, Incoming International Students Coordinator